The Great Solo Road Trip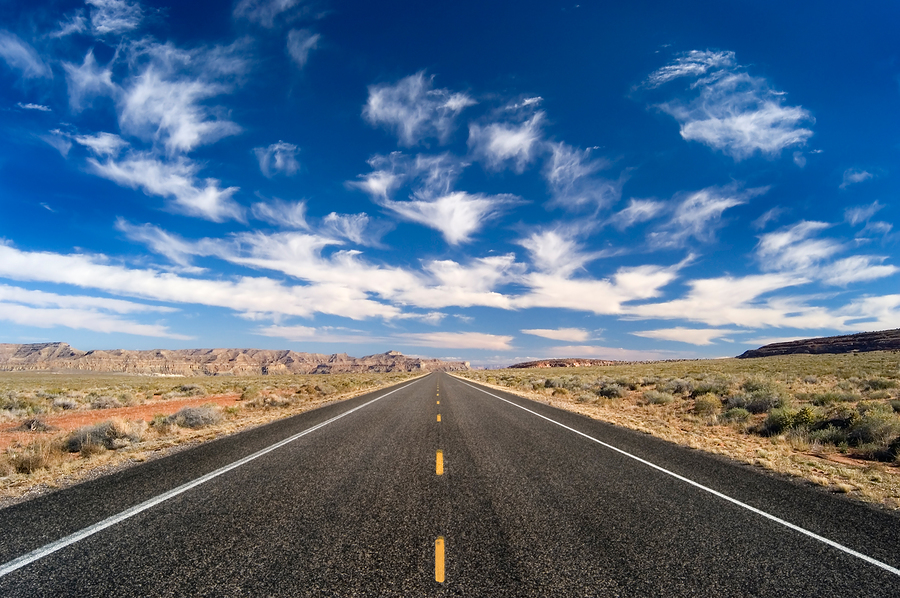 On the road again! This is what much of my road trip through West Texas and New Mexico looked like...
Hello Internet, and Hello Summer!
I kicked off Summer 2015 with a solo road trip from Amarillo, through New Mexico, to El Paso and back in two days. With no AC. It was an adventure, to be sure. I had the windows down, the radio up, and a car full of snacks and sunscreen. I walked barefoot on white sands and dove into icy blue water. I saw two beautiful sunsets, two military Chinook helicopters flying at night, and a mysterious black van that sped past me near Ft. Bliss. I choked under pressure when Border Patrol asked me what I was doing there, in the middle of nowhere alone--but thankfully they could tell I was nervous for innocent reasons. I contemplated life, the universe, and everything... but solved no mysteries.
"They" say you can find yourself on the open road. I don't know about that, because I never lost myself and I'm a genuinely happy person. However I did stumble upon some beautiful moments that I will cherish forever, and for that I'm thankful.
I suppose it was somewhat freeing to drive for two days and spend time in solitude with my thoughts. My boyfriend, Jameson, is living in Arizona for six months. I took this road trip a week before he left, so it did prepare me for the inevitability of being alone for a while. It was difficult at first, both on the road and in my day-to-day life in Amarillo, but it gets easier as time goes on. I can't wait for him to come home, but I think it's important for everyone to experience being alone sometimes. If you've never tried it, I highly recommend spending some time with just yourself. Even if you just take a day-trip to your favorite park, go spend some time in nature (or if you'd rather, see a movie, go shopping, go to dinner, etc.). Watch the world, watch people, and watch yourself. Just don't take it too seriously, have fun!
Now that we've gotten the philosophical mumbo-jumbo out of the way, let's take my advice and have fun. Check out the pictures below to see my words take form:
The endless vista of the desert was broken by the occasional mountain range.
There are apparently trees in New Mexico. Who knew? I'm told there are also ski-slopes, but since I haven't seen those yet I don't believe it.
My route took me through parts of New Mexico that almost always had some geological formation to distract me in the distance. I was very grateful for this.
I just love this picture for some reason. Windmills are cool, yo.
The sunsets last forever in the desert, and the colors are incredible.
Sorry for the poor quality, but I thought this picture of the moon rising over the mountains was neat. Obviously it was way cooler in person. This was near the time when I witness the Chinooks and the black van, near Ft. Bliss.
This was the view from my hotel room in El Paso. Ignore the gigantic pole. The mountain is pretty. I couldn't believe how close I was to Juarez, Mexico. I was worried I would take a wrong exit and accidentally get stuck there without a passport.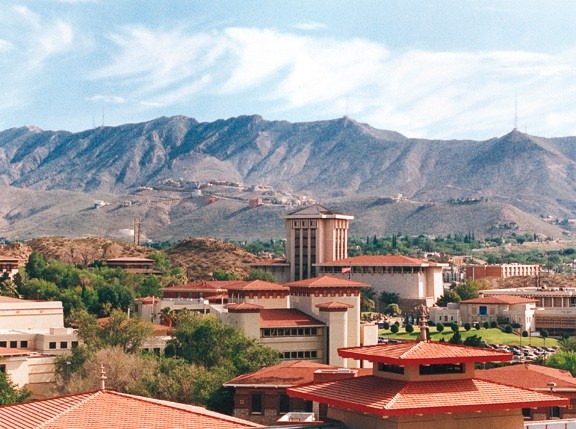 The University of Texas at El Paso campus was nicer than I expected. (I forgot to mention that the whole purpose of my road trip was to take the English Teaching Certification test at UTEP. For some reason it was the closest location for me. Good news though, I passed!)
I teleported to the Gulf Coast!
Just kidding. Still in the desert!
A beautiful Yucca and a beautiful sky to match it!
Even though it was super hot outside, the gypsum sands stay cool. I'm sure it has something to do with reflecting more light than it absorbs. I walked barefoot the whole time. The sand is so soft; it felt amazing!
This made me so angry. White Sands National Monument is not a giant ash-tray, ass-hole! (Pardon my language.)
It's so incredible that these plants can grow in the constantly shifting sands of the desert. There's a lesson to learn here, I'm sure of it. "Be like the Yucca."
Just being a dork, surveying the sands.
Stark white sand and not a cloud in the deep blue sky. Perfection.
So dusty.
My traveling companion. I'm really glad it didn't get stuck.
After a couple hours of sandy, sweaty, blistering heat... there was literally no sweeter sight than the Blue Hole of Santa Rosa, New Mexico.
60 feet wide. 80 feet deep. Always 60 degrees cold. Shade trees. Heaven.
Jumping in this water after driving for hours in the desert with no AC was invigorating to say the least. I swear the waters are enchanted or blessed to heal people who are travelling... I had a headache, I was tired, grumpy, sore, and dehydrated... but just jumping in and swimming out immediately cured me.
The rest of the trip flew by. My wet hair kept me cool until the sun went down, so I was able to enjoy the wonderful views of canyons and mountains on the way home.
New Mexico's farewell sunset was simply stunning. I had to pull over and take this picture, and I was blessed to capture a bird in flight. This picture sums up my road trip nicely: Beauty. Nature. Freedom. Memories.
Thank you for reading! If you enjoyed this, be sure to check out my post about
why Texas is the best state in America.